At KDM Home & Gas, we attribute our success to our individual focus on the client. People are treated like family or old friends, not mere numbers. In fact, much of KDM Home & Gas business is based on referrals from happy clients who've spread the word to their neighbours and loved ones.
With KDM Home & Gas, expert furnace technicians are just a phone call away. We can service or repair almost any type of home heating system, regardless of the make or model. No matter where you live in Whitby, we'll troubleshoot your heating problem, find the right solution, and get your furnace working again.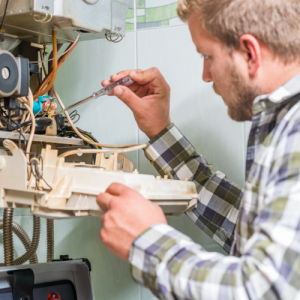 The furnace services we offer include furnace repairs, maintenance and installation. We are happy to advise members of the community on making smart, energy-conscious decisions to keep down costs and energy consumption. We offer only the best equipment and materials to ensure your equipment runs as efficient as possible for years to come. 
Things to keep in mind when deciding on a furnace repair or service:
– If you notice or smell gas, immediately call KDM Home & Gas Furnace Repair Technicians
– If your furnace is not running, try these basic troubleshooting steps:
1) find the emergency shut off, turn this off
2) find the breaker used to power the furnace, turn this off
3) turn the emergency shut off back on
4) turn the breaker back on
Our expert technicians are fully certified and have the industry experience necessary to diagnose and solve your heating emergency fast, and ensure that the job is done right the first time around.
---
What Our Clients Are Saying About Us
I would like to recommend your company to anyone
Work was done neatly. Can barely see the pipe that was installed
KDM's cost was amazingly reasonable compared to all other quotes
I would recommend this company to anyone who is looking for a professional job at a reasonable price
I would recommend KDM Home Gas to anyone looking for quality home repair services
Thank you guys! We couldn't be happier
I highly recommend KDM Home
KDM did our fireplace gas line and heat venting