If your air conditioner fails, you may be in for a long, hot summer. KDM Home & Gas is staffed with industry certified AC technicians who can perform Air Conditioning Repairs to keep you cool and comfortable during those hot summer days. We are committed to providing homeowners with peace-of-mind air conditioner installation & repair services, energy-efficient equipment and friendly knowledgeable staff. We believe in building long-term relationships with our customers throughout Brooklin and surrounding areas.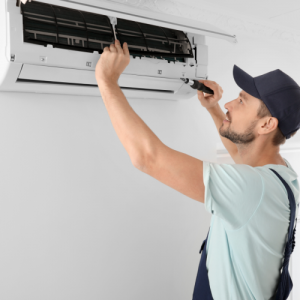 KDM Home & Gas believes that your home is your castle. We know how frustrating problems with your air conditioning or furnace can be. That's why we specialize in servicing industry-leading heating and cooling equipment that will deliver the quality you and your family deserve.
Wondering if you need an air conditioning repair? Your air conditioner will more than likely show you some signs that something is wrong. If you are in need of air conditioning repair, some of the common signs include:
– Inconsistent temperatures throughout your home.
– Odd, loud noises such as banging or screeching.
– Thermostat connectivity issues.
– Difficulty keeping your home cool enough during hot days.
– Noticeable changes in indoor air quality.
– Unusual cycling patterns.
If you are in Brooklin and require an air conditioner repair, call us to set up an appointment and get your air conditioner up and running again in no time. KDM Home & Gas is fully licensed and insured. We offer 24-hour emergency service and dedicated same day service.
---
What Our Clients Are Saying About Us
I would like to recommend your company to anyone
Work was done neatly. Can barely see the pipe that was installed
KDM's cost was amazingly reasonable compared to all other quotes
I would recommend this company to anyone who is looking for a professional job at a reasonable price
I would recommend KDM Home Gas to anyone looking for quality home repair services
Thank you guys! We couldn't be happier
I highly recommend KDM Home
KDM did our fireplace gas line and heat venting