Having an efficient, working air conditioner is essential for a comfortable home, especially during the warmer months of the year. KDM Home & Gas provides accessible and reasonably-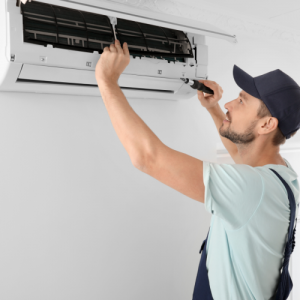 priced services for individuals looking to install, maintain or repair broken air conditioners.
KDM Home & Gas believes that your home is your castle. We know how frustrating problems with your air conditioning or furnace can be. That's why we specialize in servicing industry-leading heating and cooling equipment that will deliver the quality you and your family deserve.
Try these do-it-yourself fixes before calling us. You could save yourself a service call.
Filter: A very dirty furnace filter could inhibit the flow of cool air.
Thermostat: Turn it to 'cool' and lower the temperature 3-5 degrees below the room temperate.
Tripped circuit breakers: Reset the appropriate breaker if you notice that it's been tripped.
Blocked vents: Keep your vents open and avoid putting items like furniture on top.
Outdoor unit: Most homeowners think of this as the 'air conditioner' but it does require your furnace to circulate cool air. Ensure there's no landscaping or debris blocking.
If you are in Brooklin and require an air conditioner repair, call us to set up an appointment and get your air conditioner up and running again in no time.
What Our Clients Are Saying About Us
I would like to recommend your company to anyone
Work was done neatly. Can barely see the pipe that was installed
KDM's cost was amazingly reasonable compared to all other quotes
I would recommend this company to anyone who is looking for a professional job at a reasonable price
I would recommend KDM Home Gas to anyone looking for quality home repair services
Thank you guys! We couldn't be happier
I highly recommend KDM Home
KDM did our fireplace gas line and heat venting