If you're looking for help fixing your Armstrong Furnace, look no further! Our comprehensive Armstrong Furnace Troubleshooting guide will explain common issues, provide tips, and show you how to read your model's error codes.
Not heating?  
Most likely, either the electrical system providing your furnace's power has shorted or the power switch has blown. Try resetting your furnace's circuit breaker. If it has blown, you will need to replace it.
The furnace's igniter might either be cracked or faulty. Check the part for cracks, if it is then replace the igniter. If it isn't cracked, use a multimeter to test for continuity.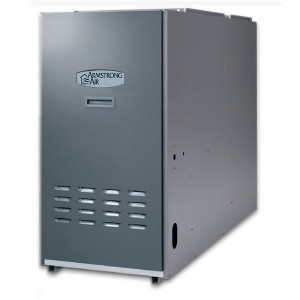 Cycling irregularly?  
Your thermostat might be adjusting incorrectly, causing the furnace to cycle on and off too often. If your thermostat has an adjustable calibration scale, adjust the heat anticipator. If this does not stabilize the unit, you may have to replace the thermostat.
Not blowing hot air?  
Your blower motor may have completely burnt out. If this doesn't seem to be the case, then the connecting belt may have simply broken. Test to see if power is reaching the motor. If it does, but isn't running, the motor has likely failed. If the motor runs but air doesn't move, the connecting belt has probably broken. You'll have to replace the belt.
Blowing too much air?  
The control board regulates the amount of voltage that reaches each functioning part. If the relay that controls the blower motor has failed, it will continually send voltage to the motor. Replace the control board.
The contact that controls the blower motor on your thermostat may be stuck closed, causing the blower motor to run continuously. Use a multimeter to check for continuity. If it appears the thermostat is the issue, replace it.
Leaking water?  
Check the drain pipe
Starting and then stopping shortly after? 
Your furnace's flame sensor monitors the burner, detecting whether a flame is present. If it is either defective or dirty, it will not be able to detect a flame. If dirty, clean the sensor using a fine abrasive pad. If faulty, replace the flame sensor.
---
What Our Clients Are Saying About Us
I would like to recommend your company to anyone
Work was done neatly. Can barely see the pipe that was installed
KDM's cost was amazingly reasonable compared to all other quotes
I would recommend this company to anyone who is looking for a professional job at a reasonable price
I would recommend KDM Home Gas to anyone looking for quality home repair services
Thank you guys! We couldn't be happier
I highly recommend KDM Home
KDM did our fireplace gas line and heat venting