When you need fast, reliable service, contact the Commercial HVAC experts at KDM Home & Gas. We repair all makes and models of Commercial HVAC systems, using quality parts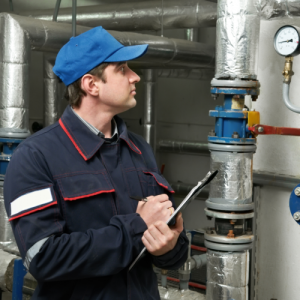 installed by licensed technicians. We're available 24 hours per day, 7 days per week to help you with any Commercial HVAC emergency repairs or system support. Our team of qualified technicians will be available to answer every one of your questions, and make sure you're completely satisfied with the work we do.
Heating, ventilation, and air conditioning systems are essential to any commercial space, industrial facility, or high-rise building. Whatever type of building you own and operate, the Commercial HVAC system is crucial to the cost-effectiveness of your company's operations. That's why any facility manager, business owner, or property manager will tell you that their jobs are made much easier when they have a reliable and experienced Commercial HVAC contractor they can trust.
Let us take the work out of maintaining your Commercial HVAC system with a customized maintenance program. We'll monitor your system closely, especially during peak periods, to ensure that your Commercial HVAC system is always operating reliably. We specialize in maintaining, repairing, or replacing all brands and types of Commercial HVAC equipment, including rooftop units, water-cooled heat pumps, cooling towers, hot water boilers, circulating pumps, steam humidifiers, make up air units, and much more.
Want to prevent Commercial HVAC issues before they present themselves? At KDM Home & Gas, we can set up a pre-season inspection before the weather changes – to ensure your Commercial HVAC equipment is operating at optimal efficiency and reliability.
To ensure your building has fully functioning heating and cooling units, it's crucial to have them properly maintained throughout the year. Some of the benefits of getting regular professional services can include:
EXTEND its lifespan
HELP THE unit run more efficiently
PROPERLY REGULATE the temperature in your property, improving the safety in the building.
MAINTAIN GOOD indoor air quality by regularly replacing the filters to remove dirt, dust and debris.
---
What Our Clients Are Saying About Us
I would like to recommend your company to anyone
Work was done neatly. Can barely see the pipe that was installed
KDM's cost was amazingly reasonable compared to all other quotes
I would recommend this company to anyone who is looking for a professional job at a reasonable price
I would recommend KDM Home Gas to anyone looking for quality home repair services
Thank you guys! We couldn't be happier
I highly recommend KDM Home
KDM did our fireplace gas line and heat venting