With KDM Home & Gas, expert furnace technicians are just a phone call away. We can service or repair almost any type of home heating system, regardless of the make or model. No matter where you live in Oshawa, we'll troubleshoot your heating problem, find the right solution, and get your furnace working again.
At KDM Home & Gas, Our certified HVAC technicians are here to help, no matter the time of year – we offer full furnace repair service throughout the Oshawa area.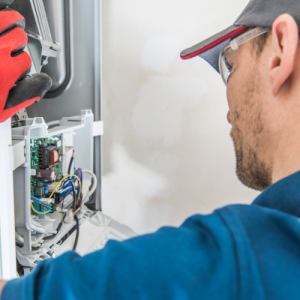 All of us are committed to maintaining the highest standards in the industry. And we take pride in knowing that every furnace is properly inspected, diagnosed and repaired according to strict standards. After all, our most important responsibility is to help keep your family and ours comfortable and safe. Take advantage of KDM's expertise in furnace repair and maintenance.
Is your thermostat set to 'heat'?
It may seem obvious, but you'd be surprised how many people forget to change their thermostat setting from 'cool' to 'heat' when winter sets in. Additionally, someone in your home may have changed the setting by mistake. If your home lacks heat, start by checking your thermostat setting to make sure it's set to 'heat'.
Is your furnace switched on?
Did you know that your furnace has a disconnect switch? This safety feature disconnects power to your furnace and is usually found on the side of your furnace or nearby on the wall. Sometimes this switch gets turned off by mistake. So if your furnace suddenly stops working, check the switch. Is something leaning up against it? Or did someone turn off your furnace and then forget to turn it back on?
In need of speedy furnace repair? Give us a call!
---
What Our Clients Are Saying About Us
I would like to recommend your company to anyone
Work was done neatly. Can barely see the pipe that was installed
KDM's cost was amazingly reasonable compared to all other quotes
I would recommend this company to anyone who is looking for a professional job at a reasonable price
I would recommend KDM Home Gas to anyone looking for quality home repair services
Thank you guys! We couldn't be happier
I highly recommend KDM Home
KDM did our fireplace gas line and heat venting