No matter where or when you bought your gas fireplace if it isn't working our experts can get it working perfectly.  Common fireplace repairs include pilot lights not lighting or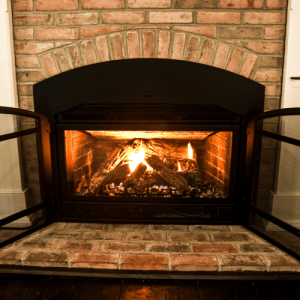 staying lit, ventilation problems, and gas line blockages. Like all gas equipment, regular maintenance is required to keep your natural gas fireplace running great. Scheduling service from our gas technicians results in greater efficiency, cleaner flames, and a reliable fireplace that won't suddenly break down.
If you smell natural gas then it is important to get a professional gas technician to inspect your fireplace immediately.  Leaking natural gas can be the result of gas fittings leaking, pilot light malfunction or ventilation problems. Call KDM Home & Gas to eliminate any more gas smells coming from your gas fireplace. Pilot lights can either not stay lit or not ignite. If the pilot light isn't staying on it could be the gas flow or thermocouple. If the pilot light won't ignite it could be the starter or gas flow problem. We repair fireplaces that won't turn or stay on.
Our Fireplace Specialists ensure the safety of your home, the longevity of your fireplace, and the integrity of your fireplace warranty. Our gas licensed technicians will be able to inspect any problems your fireplace may be having and repair them with successful solutions.
Our company is committed to fair prices on all our services: installation, maintenance, and service calls. Getting an instant fair price for your fireplace and chimney installation, upgrade or fix is just a call away.
If you are having issues with your fireplace please turn it off right away. A damaged gas fireplace can be dangerous to operate due to gas leakage and carbon monoxide concerns. Call the experts at KDM Home & Gas for all of your fireplace repair needs in Stouffville!
---
What Our Clients Are Saying About Us
I would like to recommend your company to anyone
Work was done neatly. Can barely see the pipe that was installed
KDM's cost was amazingly reasonable compared to all other quotes
I would recommend this company to anyone who is looking for a professional job at a reasonable price
I would recommend KDM Home Gas to anyone looking for quality home repair services
Thank you guys! We couldn't be happier
I highly recommend KDM Home
KDM did our fireplace gas line and heat venting