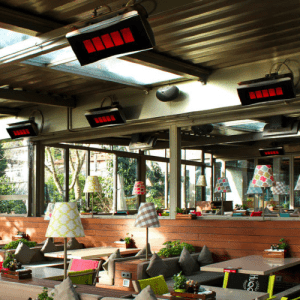 Let's face it, we spend a lot of time days spent entertaining friends and family on the patio. KDM Home& Gas can install patio heaters to help get you ready for summer and to make your parties even more enjoyable all season long.
Is your patio heater refusing to stay lit? Is it not giving off the same amount of heat it used to? Maybe you'd like to have the heat shield replaced? These are all common problems, so don't worry. Let us keep you warm on cool nights by keeping your patio heater running well. We only require your model, serial number, and a brief description of the problem to send a service technician to your house for the repair. We work on both residential and commercial patio heaters throughout Ajax.
A patio heater is an investment that pays for itself the first season you use it, providing heated comfort when you need it, where it is needed. Guests like to be comfortable, and by providing heat in your outdoor spaces, you can see a great return on investment with longer stays, more enjoyment of patio spaces, and memories to last. Without proper maintenance, your patio heaters will break. If you are running them on a regular basis for a restaurant, event center, or bar, we recommend having them serviced multiple times a year in order to assure safe operations for your establishment.
Just give KDM Home & Gas a call, and a qualified technician will come to your business or house to inspect your outdoor heater. He will quickly determine the problem and start working on resolving it right away. Whether it's something simple like lighting a pilot or complicated like making significant changes to your outdoor heating system, we are there with you throughout the process. We value your time, and our work is fast and accurate.
Whether you're looking to repair or install your patio heater in Ajax, don't hesitate to give KDM Home & Gas a call.
24 Hour Emergency Service Available
What Our Clients Are Saying About Us
I would like to recommend your company to anyone
Work was done neatly. Can barely see the pipe that was installed
KDM's cost was amazingly reasonable compared to all other quotes
I would recommend this company to anyone who is looking for a professional job at a reasonable price
I would recommend KDM Home Gas to anyone looking for quality home repair services
Thank you guys! We couldn't be happier
I highly recommend KDM Home
KDM did our fireplace gas line and heat venting