What happens if your furnace breaks down during off-business hours? Don't worry, give KDM Home & Gas a call!
No furnace repair or furnace installation job in Pickering is too big or too small for us. We're available 24/7 to help you restore whole-home comfort.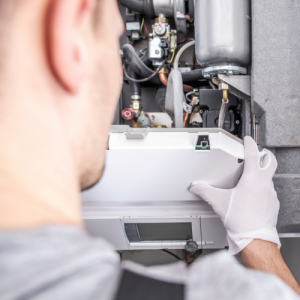 What heating solution do you use? Whether you have Electric, Gas, Dual Fuel, Heat Pump, Oil, or a Boiler, we have you covered. We will bring all the tools and knowledge required to get the job done right, the first time. Our technicians understand these systems on a fundamental level, diagnosing the cause of your furnace breakdown, and communicating the most important information and options you will need to move forward.
KDM Home & Gas offers many services for furnaces in Pickering. Our services include furnace repairs, maintenance and installations. We are proud to be helping members of the community making smart, energy-conscious decisions when it comes to their heating needs. We are here to help.
Things to keep in mind when deciding on a furnace repair or service:
– If you notice or smell gas, immediately call KDM Home & Gas Furnace Repair Technicians
– If your furnace is not running, try these basic troubleshooting steps:
1) find the emergency shut off, turn this off
2) find the breaker used to power the furnace, turn this off
3) turn the emergency shut off back on
4) turn the breaker back on
To experience our best-in-class service for yourself, call or contact us to schedule your appointment with one of our expert technicians today.
---
What Our Clients Are Saying About Us
I would like to recommend your company to anyone
Work was done neatly. Can barely see the pipe that was installed
KDM's cost was amazingly reasonable compared to all other quotes
I would recommend this company to anyone who is looking for a professional job at a reasonable price
I would recommend KDM Home Gas to anyone looking for quality home repair services
Thank you guys! We couldn't be happier
I highly recommend KDM Home
KDM did our fireplace gas line and heat venting