When the first heatwave of summer hits you rely on your air conditioner to keep your family cool and comfortable. Don't lose sleep at night tossing and turning because your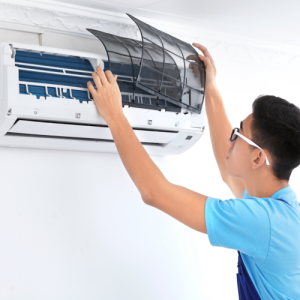 house is too hot and uncomfortable to get a good night's rest. KDM Home & Gas has the knowledge and experience necessary to keep your air conditioner and HVAC system operating properly and efficiently all summer long.
When your air conditioner breaks down it doesn't take long for your house to start heating up, especially during a heatwave. If it's the middle of the day your family can take refuge from the heat by leaving the house, but if your air conditioner breaks down at 1:00 am you might be up all night sweating instead of sleeping.
Whether it's a noisy air conditioner, clogged air vent, or busted AC unit, our certified AC repair technicians are trained to perform a complete analysis of your emergency cooling situation. We'll discuss the options with you and work to get your air conditioning system back up and running. Our trucks are stocked with hundreds of parts and materials to handle almost any job on the first visit.
All air conditioning repairs include:
– Diagnostic, safety checks of all equipment
– Fixed quotes which include all purchased parts and labour costs
– Services which can be booked through scheduled appointments
– All workmanship is fully guaranteed for one year
– Flexible payment options
If you are in Durham and require an A/C repair, call us to set up an appointment and get your air conditioner up and running again in no time. KDM Home & Gas is fully licensed and insured. We offer 24-hour emergency service and dedicated same-day service.
---
What Our Clients Are Saying About Us
I would like to recommend your company to anyone
Work was done neatly. Can barely see the pipe that was installed
KDM's cost was amazingly reasonable compared to all other quotes
I would recommend this company to anyone who is looking for a professional job at a reasonable price
I would recommend KDM Home Gas to anyone looking for quality home repair services
Thank you guys! We couldn't be happier
I highly recommend KDM Home
KDM did our fireplace gas line and heat venting