Nothing beats the versatility of a prefabricated fireplace. Built-in Gas Fireplaces are available in a huge variety of styles and finishes, so a new fireplace installation can replace an existing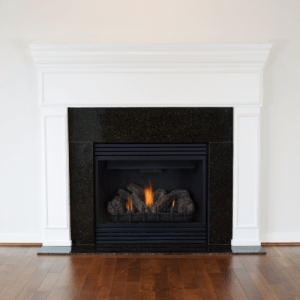 unit, as part of a fireplace remodeling project, or as a completely new design feature. Need service or repair on gas fireplaces? KDM Home & Gas performs service and repair to all gas fireplace models and manufacturers in Oshawa.
Our company is committed to fair prices on all our services: installation, maintenance, and service calls. Getting an instant fair price for your fireplace and chimney installation, upgrade or fix is just a call away.
As much as we offer fireplace services to solve your every problem, we also believe in friendly customer service with every visit to ensure your complete satisfaction. That's why we maintain a full-time, experienced crew of dedicated fireplace technicians. Our technicians provide expert and courteous customer service to all our customers throughout the day, every day.
Your gas fireplace is kind of like your car or any other possessions that you use consistently over time. The more you use it, the more wear and tear it is going to suffer. The frigid winters and the somewhat erratic climate zone that we live in can take an even greater toll on our gas fireplaces. If you have a gas-burning fireplace that you like to use regularly during the winter, you are going to need to make sure that you have your fireplace serviced annually.
On the KDM Home & Gas Service team, we take pride in our services first and meet every customer with the utmost care and respect. We want to make sure that you get the best possible experience with our company and that your fireplace is in the best working condition possible so that you can enjoy sitting around a warm fire, all winter long.
---
What Our Clients Are Saying About Us
I would like to recommend your company to anyone
Work was done neatly. Can barely see the pipe that was installed
KDM's cost was amazingly reasonable compared to all other quotes
I would recommend this company to anyone who is looking for a professional job at a reasonable price
I would recommend KDM Home Gas to anyone looking for quality home repair services
Thank you guys! We couldn't be happier
I highly recommend KDM Home
KDM did our fireplace gas line and heat venting