Do you need an air conditioning repair service in Markham? If so, KDM Home & Gas is the AC contractor you should consider. Our company has been providing top-quality services to the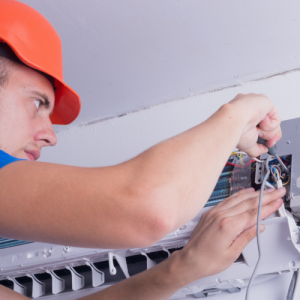 members of our community for almost a decade. We are exceptionally good at what we do and never fail to deliver outstanding results.
You may have experienced that scorching heat outside during summer, and the air conditioning, on which you spent a lot of time and money, is not cool enough to make every corner of your home comfortable. You're sweating like you're in a sauna room and worried about the cost of replacing the AC! Sometimes you don't need a new AC. A simple fine-tuning or troubleshooting by an air conditioning expert may fix it.
Staying comfortable can be a challenge, especially if you're caught up in a malfunctioning cooling system. At KDM Home & Gas, we know you want HVAC equipment that you can trust no matter how extreme the weather can be. This is why we're here to help you solve your comfort woes and present solutions that are worth your money and time. Our highly experienced technicians are available round the clock to respond quickly to your needs.
Wondering if you need an air conditioning repair? Your air conditioner will more than likely show you some signs that something is wrong. If you are in need of air conditioning repair, some of the common signs include:
– Inconsistent temperatures throughout your home.
– Odd, loud noises such as banging or screeching.
– Thermostat connectivity issues.
– Difficulty keeping your home cool enough during hot days.
– Noticeable changes in indoor air quality.
– Unusual cycling patterns.
Even the smallest air conditioning problems could become major issues on hot days. KDM Home & Gas in Markham offers you fast, professional, and competitively-priced air conditioner service, for a wide variety of makes and models.
What type of service do you need? Whether you require AC repair or a furnace repair service in Markham, contact us, and we will provide you with an adequate solution to your problem.
---
What Our Clients Are Saying About Us
I would like to recommend your company to anyone
Work was done neatly. Can barely see the pipe that was installed
KDM's cost was amazingly reasonable compared to all other quotes
I would recommend this company to anyone who is looking for a professional job at a reasonable price
I would recommend KDM Home Gas to anyone looking for quality home repair services
Thank you guys! We couldn't be happier
I highly recommend KDM Home
KDM did our fireplace gas line and heat venting